Handbook "Long term training strategy for Latvia's prosecutors" available
31. oktobris, 2014 pl. 12:00
Handbook "Long term training strategy for Latvia's prosecutors" available
International conference "Prosecutor's Office I am proud of" took place on 20th-21st October in Latvian Judicial Training Center. In total 65 Chief prosecutors and Deputy chief prosecutors from Latvia took part in the conference.
Handbook "Long term training strategy for Latvia's prosecutors" was presented during the conference. Handbook offers an overview of prosecutors continuing education, and recommendations for creating a systemic professional continuing education system for Latvia's prosecutors and is co-authored by Solvita Kalniņa-Caune, Ilona Kronberga, Inga Pāvula and Aija Tūna. Hanbook is available in Latvian and English.
During the conference Prosecutor General Ēriks Kalnmeiers addressed the audience and talked about Future of Prosecutor's Office in Latvia. Experts from Denmark HR-administration at the Director of Public Prosecution prosecutor Henrik Blichmann and senior consultant Kirsten Dybkjær, and Nicklas Lagrell from Swedish Prosecution Authority Prosecutor General's Office Training Unit shared their experience on defining and developing competencies of a prosecutor, prosecutors role and change management process. Researcher and co-author of the handbook Ilona Kronberga spoke about prosecutor's role in society and judicial system in context with public inquiry presented in handbook.
Participants of the conference took part in world cafe discussion, answering questions about how should Prosecutor's Office in Latvia be, what competencies does a prosecutor need and how to implement the changes? Results of the discussions were presented by group moderators.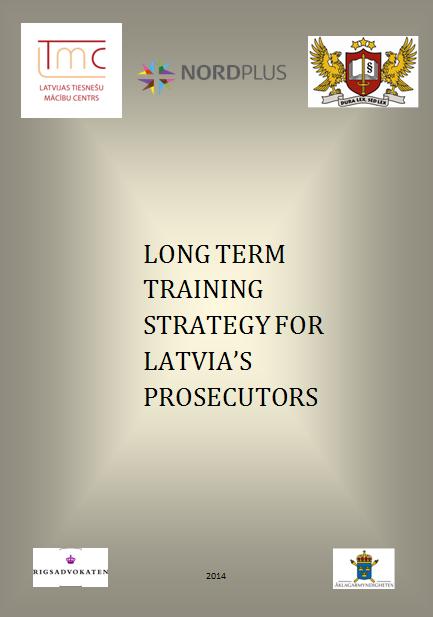 (Click to download)
The handbook is a part of project "Long term training strategy development and implementation for Latvian prosecutors". The project is implemented in Nordplus Adult education programme with co-financing from Prosecutor General's Office and Latvian Judicial Training Center.